There is awakened in man in times of trial and crisis a personal challenge, an individual response to a thrown gauntlet. It has been thus from the Holy Crusades to Britain's "Finest Hour" and man has never failed to lift the glove from the dust.
The siren call to man's soul, from Greek legend or outer space, beckons silently and mesmerized man has always sought it out. It has been thus from Jason and the Golden Fleece to White, McDevitt and Gemini Four.
Throughout history, man has heeded the inner summons whether it come from his fellow man or the pyramiding natural evolution of knowledge.
Always there have been those men who would see the world beneath them from a Himalayan peak; walk the floor below a bottomless ocean; fly, run, drive through sound and time and light, faster than any men have before them, and now to reach out to grasp the stars!
These are the Golden Men and whatever their difference in language, ancestry, time or place, whatever their reasons, sublime or touched with folly, they are kindred in a brotherhood. A brotherhood of speed and challenge, of adventure and daring, men searching with reckless design to know themselves.
The racers are of that breed. A thin thread of blood veins through them all, whether they choose to run on land or in the air or on the water.
They drive the great hydroplanes because there are no bigger, faster boats in which man can compete against the skills and courage of his fellows on a body of water.
In the Lake Tahoe World Championship Regatta are some of these men, the racers, the challengers. Some are 20; others were 20 thirty-five years ago. Some have black hair, are loquacious, dress flamboyantly; others are imperative, austere, crave Mexican food. They can be belligerent and obstreperous and given to dark moods, or they can be poignant and blessed with humor. But the thin red line that binds them all irrevocably together holds against all differences of temperament or social grace. When they speak, the differences fade, the universal umbilical cord of the searcher tightens.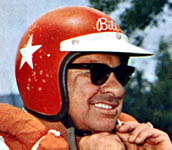 "Why do I drive?" the bluff man with the Wallace Beery face said in a soft southern accent which made "drive" come out "drahve." He turned his big hands over within themselves before he answered, the heavy spatulate fingers folding into a lattice. "The water fascinates me. It always has. It always will," he said.
This was Bill Cantrell. An old man in this sport which requires a physical examination before each race. He is a most respected competitor. Cantrell began driving in 1924. No, that's not a typographical error, Nineteen and Twenty-Four. In 1927, he earned himself a nickname he has kept these many years.
A speed boat he was driving ran amok on the Ohio River and Bill charged through a couple of canoes and over a few anchor chains. His hands were slippery with grease from the old engine and slipped on the Neanderthalic steering apparatus, a single "stick." "Wild Bill" he was called that day, and "Wild Bill" he's been called ever since.