1954 Mapes Mile-High Gold Cup


Lake Tahoe, CA, September 11-12, 1954
---
Mile High Regatta at Tahoe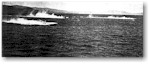 Jack Regas, right, steals the start of the second heat in the Gold Cup Race. Closest to camera is Breathless, owned and driven by Jay Murphy, Piedmont, Cal. In the middle is Hurricane IV, owned and driven by Bill Stead of Reno.
Jack Regas became the new champion of the Mile-High Regatta at Lake Tahoe when he drove Henry J. Kaiser's 1600-horsepower Scooter to victory in the unlimited hydroplane class in the Gold Cup event.
Regas took two seconds and a first in the three heats of the event to compile 1000 points as against 925 for Bill Stead of Reno who drove his 3600-horsepower Hurricane IV to a first, second and third in the three heats.
Stead's boat was badly damaged during the third heat and sank in six feet of water shortly after the finish. Stead also was unlucky when Jay Murphy's Breathless spun out of control on a turn and forced Stead to take up, costing him the second heat.
Stanley Dollar, Jr., was third with a first and a third even though his Short Snorter, the defending champion, went down in six feet of water after the second heat. A gaping hole in the hull was the result of striking a bottle on the course, Dollar said.
High winds and choppy water kept the huge hydroplanes under wraps. Regas' fastest lap on the three-mile course was 88.74 but he was clocked in the straightaway at 119.43.
Stead's boat went down the homestretch at 123.26 mph, fastest time of the day.
Scooter is powered by a 1600-hp engine developed by Kaiser at his Oakland plant. Kaiser's other boat, the smaller Restless, was hopelessly outrun in the first heat and withdrew.
Regas and his crew also had trouble to overcome. Scooter's hull was badly cracked during the first heat and a patch came loose during the second.
The pit crew worked feverishly to get the 28-foot boat back into the water for the final heat.
Murphy never could get Breathless running right. The sixth boat in the field, the seven-litre California Kid, owned and driven by George Mattuchi, Oakland, was running for points only and never had a chance.
Regas and Kaiser were presented with the Mapes Gold Cup, donated by Reno hotelman Charles W. Mapes Jr., himself a boat driver of note.
The event next year, a third renewal, will be held at the north end of the lake, spokesmen said.
(Reprinted from Sea and Pacific Motor Boat, November 1954)
Final Results
1.
U-12
Scooter
Jack Regas
2.
G-2
Hurricane IV
Bill Stead
3.
G-8
Short Snorter
Stanley Dollar
4.
California Kid [7-litre]
George Mattuchi
5.
U-22
Breathless
Jay Murphy
6.
Restless
?
---
Hydroplane History Home Page
This page was last revised Thursday, April 01, 2010.
Your comments and suggestions are appreciated. Email us at wildturnip@gmail.com
© Leslie Field, 1999