1965 Diamond Cup


Lake Coeur d'Alene, Coeur d'Alene ID, July 11, 1965
---
Exide's

Race Again

The final surprise of the Diamond Cup Regatta July 11 in Coeur d'Alene, Idaho was that defending champion Miss Exide won it. The initial surprise was the reduction in the field.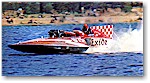 The possible 21 dwindled to a respectable 12 as camps nursing Dixie Cup troubles had to forego the Idaho race in preparation for later events. Others found the back-trek from Idaho to a North Dakota race, then on to Seattle's Gold Cup a bit too demanding on crews and equipment.
But 12 boats arrived, 11 qualified and all 11 put on spectacular racing. Of five heats only one became the parade familiar to unlimited spectators.
Pre-race activity centered on boats not yet qualified for Gold Cup or entering Diamond Cup as a first seasonal event, therefore needing a minimum one-lap 100-mph speed to join the entry list.
Chief among them was Miss Bardahl, 1965 National High Point and Gold Cup champion, Diamond Cup defending champ Miss Exide, $ Bill and Miss San Diego (former Coral Reef). The remaining field - Smirnoff, Notre Dame, Mariner Too, Madison, Budweiser, Savair's Mist, Gale's Roostertail and Tahoe Miss - needed testing only after qualifying at Dixie Cup.
Across the start with perfect timing, rookie driver Rex Bixby brought $ Bill to kick off Heat 1A. With surprising speed and handling he kept the craft out front into the first turn. There he lost the lead to Mariner Too, Madison and Budweiser as they turned in a shorter radius. Following were Smirnoff and Savair's Mist.
Up to the back stretch, however, it proved to be anybody's race as Mariner, Budweiser and $ Bill fought for position. By lap three driver Warner Gardner had Mariner securely in first. Behind him dueling began among Chuck Hickling in Budweiser, Bill Cantrell in Smirnoff and Bixby in $ Bill. Buddy Byers in Madison and Red Loomis in Savair's Mist suffered the slowing effects of rough water left by dueling boats.
The final lap saw two battles as Smirnoff squeaked past Mariner Too with 98.666-mph heat average speed. Mariner was second with 98.306; $ Bill third, 95.406; Madison fought past Budweiser with 94.557; Budweiser posted 94.372 and Savair's Mist came in with 88.962.
These duels keyed up spectators and camps alike for an equally hot Heat 1B. And hot it was, to start. First into the turn was Rex Manchester in Notre Dame, followed by Bill Brow in Exide, Ron Musson in Bardahl, Chuck Thompson in Tahoe Miss and Jerry Schoenith in Roostertail.
At a scorching pace Notre Dame slammed into the turn dipping and bouncing, slewed sideways, then straightened out to take water from other boats and load up on fuel. She died in the turn.
As Brow and Exide charged up the backstretch hotly chased by Musson in Bardahl, Manchester worked to restart his engine, over primed and produced a common, but spectacular, stack fire. "She's burning" was the shouted pit and spectator information. A patrol boat not used to sight of stack fire pulled a flare and the heat was stopped just after Notre Dame roared to life, was back on a plane and beginning to charge up the backstretch.
The re-run of Heat 1B found Tahoe Miss scratched by mechanical failure. Exide, Notre Dame, Bardahl and Roostertail executed another fast start. Again Notre Dame led into the turn followed by Bardahl, Exide and Roostertail. Through laps two and three Exide and Notre Dame dueled for first. By lap four Exide established a sound first as Notre Dame fought repeated challenges by Bardahl. In lap four Bardahl moved into second but a lap five full course duel brought Notre Dame across the finish second with Bardahl third.
Exude posted 110.882-mph. With Notre Dame posting a 108.173 to Bardahl's 108.129 she showed she was a frontrunner at last. But consistently? Nobody yet knew. Roostertail, meanwhile, ran one lap then did not finish.
Heat 2A brought Mariner Too into the first turn after a long airborne leap that threatened destruction. Bardahl pressed close behind followed by Exide and Savair's Mist. $ Bill was unable to start.
Bardahl and Exide took over first and second in lap two with Mariner and Savair's Mist following. They maintained this order until lap five when Exide challenged and caught Bardahl to win the heat with a 108.564 mph speed. Bardahl posted 107.100; Mariner Too, 92.560 and Savair's Mist, 90.437. Neither Roostertail nor $ Bill started.
Heat 2B put Smirnoff into the turn first with Madison, Notre Dame and Budweiser hot on her transom. On the exit pin Notre Dame passed Madison then pressured Smirnoff until the luckless craft blew power in a second lap straight-a-way duel.
From then on it was a cozy parade with Notre Dame widening her lead to post 103.369; Budweiser and Madison following to finish with respective 101.809 and 100.896.
The Final was a thriller. Exide entered with 800 points; Notre Dame, 700; Bardahl, 525; Mariner Too, 525; Budweiser, 427; Smirnoff, 400 and Madison as alternate with 394.
Bardahl took the lead from the start and held it to the finish. Exide, Madison and Budweiser moved into second, third and fourth while Mariner Too went dead in the starting sprint.
From fifth place Notre Dame ran outside, passed Budweiser and Madison to settle into third by lap two. Pushing hard and threatened by near-collision with Mariner Too drifting in the straightaway, Notre Dame veered, continued to challenge Exide and finally took over second spot.
In lap four Mariner Too roared to life to continue the heat which finished with Bardahl first by commanding lead at 105.820, Notre Dame second with 103.033, Exide third with 101.964, Madison fourth, Budweiser fifth and Mariner sixth. (Speeds on the latter three were unavailable.) All three raced a penalty lap-Madison and Mariner for jumping the gun, Budweiser for hitting a buoy.
When all points were totaled Miss Exide, defending champion, was again a winner of the Diamond Cup. She won two heats, placed third in the Final and posted 1025 points. Notre Dame was second overall with 1000; Bardahl, 925; Mariner Too, 620; Madison, 563; Budweiser, 554; Smirnoff, 400; Savair's Mist, 264; $ Bill, 225. Gale's Roostertail ran in the money but garnered no points, and Tahoe Miss garnered neither.
Strangely enough, the exciting event may cause more consternation than congratulation. Sponsors of Diamond Cup staged the regatta against odds of community friction. Many believed the event to be Coeur d'Alene's last. But the fine competitive showing may cause another close look at the regatta. Certainly nobody is taking bets either way at this moment.
Miss Exide, an odds-off favorite not to repeat her 1964 win beat all odds. Newly reconstructed, lacking final paint, late into the pits, late to qualify, and entered with just one engine, the camp appeared only in the sporting tradition as defending champ. The win? "We're all a little surprised," said driver Bill Brow of the victory.
Notre Dame, previously an unknown quantity through wins against both fast and slow .boats, seemed firmly locked into the hot boat class with one win and two seconds against top competition.
Bardahl, accidentally dropped then bounced on her trailer to sustain hull puncture and other damage, was patched hastily then raced to win the Final heat and hear other camps quip, "We're going to drop our boat for that kind of performance, too!"
Gale's Roostertail and Miss Smirnoff were a hard luck team. Representative owner Lee Schoenith said of repeated mechanical failure, "This is just not our time or place."
Miss San Diego disappointed herself and fans as new driver Robert Fendler, a green crew and first race added up to inability to qualify.
Buoy swatting proved rather commonplace in the event but was handled well by official rulings. Cited for outstanding driver performance in the American Power Boat Association sanctioned event were Bill Brow, Ron Musson, Rex Manchester and rookie Rex Bixby.
All re-hash of the event was short-lived. With a regatta at New Town, North Dakota just one week and 700 miles away, camps began packing and rolling immediately after the regatta.
Within a three-week period lay the Dakota Cup and Gold Cup.
(Reprinted from Boating News, August 1965, pp.28-9, 43)
---
Hydroplane History Home Page
This page was last revised Thursday, April 01, 2010 .
Your comments and suggestions are appreciated. Email us at wildturnip@gmail.com
© Leslie Field, 2001