1995 Gila River Casino Cup
Firebird Lake, Phoenix, AZ, April 23, 1995
---
Big Boats Return to Firebird Lake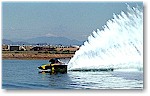 U-2 T-Plus Engine Treatment & Steve David make a sudden exit
[Photos courtesy Stephen Lane]
Big Boats Return to Firebird Lake
PHOENIX (Apr. 23) -- For the first time in 20 years, the big boats returned to manmade Firebird Lake in Chandler, just south of here, and demonstrated their special magic around a tight and treacherous 1.5-mile course. The Gila River Casino Cup was punctuated by a terrifying practice accident involving Steve David and the T-PLUS Engine Treatment. When his skid fin became unbolted at 180 miles an hour, the Pompano Beach (Fla.) veteran could only hold on for dear life as his boat left the course and plowed 45 feet through sand and gravel and into a (fortunately) restricted shore area. Amazingly, the craft suffered minimal damage and David was back the next afternoon to finish fourth.
A unique, drag racing-style race style prevailed, with the top eight qualifiers squaring off in side-by-side "eliminations" of three laps each. Chip Hanauer's almost completely rebuilt (from its '94 Seattle flip) Miss Budweiser was all-conquering, blowing away T-PLUS in the semis and then swallowing arch-rival Mark Tate and the Smokin' Joe's in the five-lap championship heat. The race, scheduled to launch the season again in 1996, was the first of a five-race contract with the sponsoring Gila River Indian Casino.
The event also marked the first of nine straight races attended by Ed Cooper Jr. (and Sr.) and the Evansville (Ind.)-based U-3, which ran here as Kendall Motor Oil/Ramada Inns and logged in under a variety of sponsorship handles throughout the [1995] season. This boat began the season with a solid fifth place here and, despite being the only piston-powered boat left in competition, acquitted itself well with a like finish in the Gold Cup.
(Reprinted from the URC Electronic Thunderletter No. 29 September 28, 1995)
---
Hydroplane History Home Page
This page was last revised Thursday, April 01, 2010.
Your comments and suggestions are appreciated. Email us at wildturnip@gmail.com
© Leslie Field, 1999