1997 Chrysler Jeep APBA Gold Cup
Detroit River, Detroit MI, June 1, 1997
---
Pierce Eludes Serious Harm in Crash
DETROIT -- [May 29, 1997] Scott Pierce, 41-year-old veteran unlimited hydroplane driver from Edmonds, Wash., escaped serious injury after his Wellness Plan boat was demolished in a 195-mile-an-hour crash Thursday morning on the wind-blown, rain-pelted Detroit River course. The accident occurred during the first of two days' qualifying for this weekend's 90th Chrysler Jeep APBA Gold Cup race.
Pierce, who blew over at approximately the same spot while driving the Mr. Pringles hydroplane during the 1989 Spirit of Detroit Thunderfest race, was taken to Detroit Receiving Hospital as a precautionary measure. He appeared to be suffering only from minor cuts and bruises. The drivers are protected by F-14 fighter jet canopies. The $250,000 hull was destroyed and sank shortly after Pierce was pulled out by Unlimited Hydroplane Racing Association rescue personnel. The boat is owned by Fred Leland of Kirkland, Wash.
Driving rains and 20-knot winds greeted the UHRA Thunder Tour '97, presented by Las Vegas, as an 11-boat field girded for the sport's most prestigious event. Another day of time trials will precede the race, which is set for Saturday (two preliminary heats) and Sunday (two preliminary heats and a winner-take-all final).
ESPN2 will telecast the final, live, on Sunday, beginning at 3 p.m. (EDT).
The course was closed after the accident, with Dave Villwock and the Miss Budweiser atop the qualifying ladder with a two-lap (five-mile) average of 158.724 miles an hour. It reopened in the afternoon, by which time nine of the ten teams here had posted qualifying times. If Ed Cooper Jr.'s Mill Bay Casino is unable to compete (fitting a new hull is a task his Evansville, Ind.-based crew may not accomplish in time for the race), this would be the first all-turbine Gold Cup in history.
Pierce had just concluded a 157-mile-an-hour lap and was headed for the 160 mph threshold when his boat was picked up by a gust of wind while entering the tight "Roostertail" turn at the east end of the 2.5-mile course.
The boat is not likely to be rebuilt this season. The question of whether Leland will maintain a second team remains to be answered. Pierce, upon returning from the hospital, wore a knee brace to protect a slightly gimpy left knee. He chatted with reporters and broadcasters and seemed to be in good humor, despite the disappointment of losing what he called "the fastest boat here."
The big boats are racing for a $210,000 purse, as well as the solid gold, Tiffany-constructed APBA Challenge Cup, which was first introduced in 1904.
---
Pierce Mulls His Future After Spectacular Crash
By Jim Spadafore
Driver Scott Pierce came away from a spectacular crash Thursday with minor injuries when his boat went 30 to 40 feet into the air during qualifying for Sunday's Chrysler Jeep APBA Gold Cup on the Detroit River. But his Wellness Plan hydroplane was demolished.
"I'm a little shaken up, but I'm happy to be alive," said Pierce, 41, of Edmonds, Wash. "It's really a miracle I'm not hurt."
Pierce was traveling about 200 mph near the Roostertail turn when his boat went airborne and flipped over on its top, a F-14 fighter jet canopy. Pierce had another accident in almost the same spot in 1989 driving Mr. Pringles.
"That canopy probably saved my life," Pierce said. "I was running real quick. I started to hit the canard pedal and bring it down. Maybe I pedaled too hard. The boat hung up in the air. I had to be up over 30 feet.
"Then I crunched down waiting for the impact. I landed upside down. It was dark and water was coming in. There was water coming in my mask. But I was rescued pretty fast."
Pierce was examined by Dr. Craig Magnatta at the site and then taken to Detroit Receiving Hospital for observation.
"Scott never lost consciousness," Dr. Magnatta said. "He sustained abrasions and cuts to his leg and abrasions to his head caused from the jerking. But he's fine."
Pierce had just concluded a 157-mph lap when he crashed. The Wellness Plan boat is owned by Fred Leland, who also owns both PICO American Dream boats.
Pierce, who won the Gold Cup here in 1987, is unsure of his future as an unlimited driver. Pierce has been racing 17 years. Wellness' $250,000 hull was destroyed. And Pierce's close call has him wondering if the sport is for him.
"There are a lot of issues . . . what's best for me and my family," Pierce said. "Now I don't have a ride. I'm not going to make any decisions in the heat of the moment."
(Reprinted from the Detroit News, Friday, May 30, 1997)
---
A Total Loss : 200 MPH Back Flip Wrecks Hydro
By Eric Sharp
Scott Pierce's aerial antics Thursday would have earned a 10 in any Olympic diving event.
Unfortunately, when Pierce did a back flip with a full twist into the Detroit River, he was in the cockpit of a jet-turbine-powered unlimited hydroplane that was doing 200 miles an hour.
Only a handful of fans were around on a wet, chilly day when Pierce's Miss Wellness Plan turned one lap at an average speed of 157 mph and roared onto the back straight of the next lap in qualifying for Sunday's Detroit Gold Cup race.
The 20-knot wind whipping over the river sent a gust under the blue-and-white boat, which performed a classic backward blowover in front of the Detroit Yacht Club. The twin pickle-fork bows flew 50 feet above the water before the hydroplane slammed back onto the river upside down.
Pierce escaped with a bruised head and a bruised left leg.
"The right sponson got up, and I brought it down" with the controllable front wing, Pierce said. "I may have over corrected and made it bounce more. I was pressing the pedal so hard I thought it would go through the floor.
"When it got airborne, I was kind of wadded up in there bouncing around like a BB in a washtub. I got my straps loose and scrunched way down. I gripped the wheel so hard I turned it inside out."
He also experienced deja vu as the boat flipped within feet of where he suffered a broken ankle in a 1989 wreck.
Pierce, a 41-year-old Seattle driver who won the 1987 Budweiser Thunderboat Championship here in Mr. Pringles, credited the boat's jet fighter canopy with saving his life.
When the boat stopped, he said, "the cockpit filled up with water, and I could feel some leaking around my mask.
"I turned the air way up and waited. But the scary thing is that the boat sank after they got me out. That's the first composite (construction) boat that's ever happened to."
When divers raised the 30-foot boat and towed it to shore, it was a write-off -- the left sponson snapped off and once-secret construction details visible through gaping holes from bow to stern.
"I don't want to make a decision in the heat of emotion," said Pierce, who has survived six such wrecks. "I'm going to have to think real hard about driving again.
"I've done this since I was 5. It would be easy for me to get back in a cockpit again. But I have a beautiful wife and daughter and a business to run, and I have to think about how it would affect them."
The Gold Cup is the 90th running of powerboat racing's most prestigious event, and the 82nd unlimited race in Detroit (34 of the Detroit races have been Gold Cups). It is the only race on the circuit in which drivers time their approaches to the finish line as a big clock counts down the final seconds. All the other races use pace-boat starts.
After the deaths of Bill Muncey in 1981 and Dean Chenoweth in 1982, the Unlimited Hydroplane Racing Commission mandated closed cockpits for the 1987 season. With the drivers protected by jet-fighter canopies, the result has been no deaths and fewer severe injuries.
Thursday's wreck started a rash of reminiscences by other drivers, including Ken Dryden, who set the all-time hydroplane altitude record when he kited Miss E-Lam Plus an estimated 100 feet in the air in a 1994 qualifying session in Seattle.
Now crew chief for PICO American Dream, Dryden said, "I remember everything. I had time to shut off a lot of electrical stuff while I was still in the air and get ready to go in. I stuck my fingers under my shoulder straps to protect my arms. It probably helped, but I couldn't feel my fingers for six months."
Dryden spent four months in a wheelchair with a broken back and shattered leg.
Mark Evans, 40, who drives PICO, has had only one blow-over, but every second is etched into his mind.
"When you get in trouble, it's like somebody pressed the fast-forward switch on the VCR," Evans said. "Then the flip starts and it all goes in slow motion.
"You think things like, 'I wish wasn't here. Where's my wife? She's not gonna like this. I wonder if this is gonna hurt.' I even had time to say a little prayer."
(Reprinted from the Detroit Free Press, Friday, May 30, 1997)
---
Pre-Start Crash at 150 MPH Mars Gold Cup Preliminary Heats
DETROIT [June 1, 1997] -- The 90th APBA Gold Cup, most prestigious event on the UHRA Thunder Tour, presented by Las Vegas, is turning into a high-speed demolition derby. Two more boats were heavily damaged when drivers Mark Evans and Nate Brown came together on the Detroit River at some 150 miles an hour during pre-race maneuvering in Heat 2A Saturday afternoon. The drivers luckily escaped serious injury, although Brown, 38, of Preston, Wash., was taken to Detroit Receiving Hospital complaining of left shoulder and neck pain.
Involved were Evans' PICO American Dream -- winner of this race a year ago -- and Brown's Miss D.O.C/TruckGear. The sponsoring PICO company promises that their boat will be repaired in time for Sunday's racing. The PICO was the second Fred Leland-owned boat to be wrecked in three days. Scott Pierce blew over at 165 miles an hour during a Wellness Plan qualifying run Thursday morning. The D.O.C/TruckGear is a doubtful starter for the remaining three heats.
The competition is led by Mark Tate in the Close Call with 700 points. He won Heat 1A and then ran second to Dave Villwock in the Miss Budweiser in Heat 2B. Mike Hanson in DeWALT Tools and Steve David in Miss Detroit Ford Dealers won the other two heat sections.
The Gold Cup is the only unlimited race that features the so-called "clock" start, with boats and drivers scurrying about the course in helter-skelter fashion so as to not "jump the gun." Oddly, both Evans and Brown had their turbine-engined boats washed down in respective sections of Heat 1. Villwock infringed on Evans, 40, of Wenatchee, Wash., and suffered a one-lap penalty that cost him the win in Heat 1B.
Just before Saturday's crash, Evans was cutting through the course in an effort to get position. Brown was cutting across from the other direction. The latter boat swerved at the last second, but his right sponson slammed into the right rear decking of the PICO.
---
Crash Injures Driver, Might Limit Field
By Jim Spadafore
One driver was sent to a hospital after a near head-on hydroplane crash Saturday during unlimited preliminary heats of the Gold Cup on the Detroit River.
Nate Brown, driving Miss D.O.C/TruckGear, suffered minor injuries and was taken to Detroit Receiving Hospital for X-rays and observation. Driver Mark Evans of PICO American Dream, which won last year's Gold Cup, was not injured.
"Nate Brown has a mild concussion and he hurt his left shoulder and has tenderness in the abdominal area," Dr. Craig Magnatta said. "Mark Evans was just shaken up."
In the five-minute warm-up period about a minute before the second heat, Brown, 38, of Issaquah, Wash., and Evans, 40, of Wenatchee, Wash., crashed as they jockeyed for position at 150 mph on the infield of the 2.5-mile course. The right side of PICO, from the halfway point to the end, was damaged extensively. But the PICO team hopes to have the boat ready today. Miss D.O.C, damaged on the left side, was knocked out of the race. Weather was not a factor.
The crash occurred near the same spot where Mark Tate and Chip Hanauer crashed in last year's qualifying heats.
It was the second accident in the last three days. Scott Pierce suffered minor injuries and the Wellness Plan hydroplane he was driving was damaged extensively Thursday when his boat went airborne 30 to 40 feet and flipped on its top.
Because of crashes to Wellness Plan, Miss D.O.C/TruckGear and PICO, the Gold Cup could be down to seven boats. But PICO officials said they will work around the clock in hopes of having the boat repaired in time for today's final two heats and the Gold Cup final, which begins at 3:45 p.m.
Evans said it was too early to say who was at fault. Brown and Evans were trying to get in position to be at full speed when the starting gun went off. They almost hit head-on, but Brown swerved at the last second and caught the right side of PICO with his boat's left side.
"I don't know what happened -- I'm shocked," Evans said. "I wanted the inside lane . . . I don't know why, but Nate cut back."
After Saturday's two heats, Tate in Close Call leads with 700 points and Miss Budweiser and DeWALT Tools each have 625 points. The six best in points advance to the final.
(Reprinted from the Detroit News, Sunday, June 1, 1997)
---
Hydros Endure Second Collision
By Jim Hawkins
Another the many features that makes the annual Gold Cup on the Detroit River the biggest and best boat race in the world reared its challenging head Saturday, sending one more driver to the hospital, one more boat to the scrap heap and another boat back to the shipyards for a frantic night of emergency repairs.
Jockeying for position during the final minutes prior to the third of four qualifying heats, in the "Chinese fire drill" format that allows drivers to crisscross the race course and cut into line at will, Nate Brown, piloting the Miss D.O.C/TruckGear, ran into the side of defending champion PICO American Dream, with Mark Evans aboard.
The crash, which came in the middle of the race course near the Belle Isle Bridge turn, knocked Miss D.O.C/TruckGear out of today's race and sent Brown, who was carried off his boat on a stretcher after it was towed back to the pits, to Detroit Receiving Hospital. Preliminary reports indicated he was in stable condition, apparently with no serious injuries.
Meanwhile the American Dream, sponsored by Progressive Tool & Industries Co. of Southfield, was quickly disassembled and transported to two of that company's plants. The boat itself was taken to Royal Oak, where much of its outer shell will hopefully be rebuilt in time for today's 3:40 p.m. Gold Cup finals. The jet- powered turbine engines were taken to another location in Southfield for repairs.
"We do this for a living, so at least we've got a chance," PICO president Larry Wisne said. "We'll put our S.W.A.T. to work and see what they can do. It's going to take 20 or 30 people working all night, but we're going to give it our best shot. We're just lucky this happened here, where we've got the resources to do something about it. If it happened anywhere else, we wouldn't have a chance."
Evans, who hit his head in the collision, was nicked and dazed but otherwise unharmed and ready to race again.
"It was kind of a shock, that's all," he said. "I wanted the inside lane, so I cut across the course to get in front of the other boats and I guess Nate was trying to kill some time by circling around. I don't even think he saw me coming until the last second. Then he tried to turn, but he didn't turn enough."
Under rules that are unique to the Gold Cup, drivers are free to cut back and forth across the middle of the race course in order to secure the best possible position before the clock signals the start of the race. They don't have to stay in their own lane prior to the start. They don't even have to stay on the race course. To the skilled and experienced driver, it can afford a significant edge. But to the untrained eye, it looks like total chaos.
Since 1991, the Gold Cup has been the only race on the circuit that employs a clock start. All other races require drivers to keep their boats in reasonable order until the green flag drops.
Dave Villwock, making his debut as driver of the vaunted Miss Budweiser, finished first in his second run in a steady rain Saturday and would have made it a clean sweep had he not been fined $300 and penalized one lap for cutting in front of PICO American Dream and drowning out that boat's engine earlier in the afternoon. As a result, Mike Hanson aboard DeWALT Tools was declared the winner and Miss Bud was placed fourth.
Close Call, the other pre-race favorite, finished first in one heat and second behind Miss Bud in the other. The fourth heat of the day was won by Miss Detroit Ford Dealers, driven by Steve David.
The seven or eight unlimited hydroplanes that are still able to float -- Scott Pierce crashed during qualifying Thursday, wrecking The Wellness Plan boat beyond repair -- will square off in four more qualifying heats today and the top six boats will form the field for the Gold Cup final. With seven boats having qualified at 140 mph or better, it is one of the fastest fields in unlimited hydroplane history. There will also be championship finals in the Grand Prix, Unlimited Lights, Jersey speed skiffs and inflatable categories.
(The Oakland Press, Sunday, June 1, 1997)
---
VILLWOCK MANEUVERS TO GOLD CUP TITLE AGAIN
By Jim Spadafore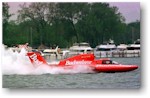 Even in rain, strong wind and rough water Sunday, driver Dave Villwock in Miss Budweiser made the Gold Cup final look like a leisurely stroll on the Detroit River.
With his stiffest competition hampered by engine problems and crashes, Villwock breezed to the title in the Chrysler Jeep Gold Cup, the most prestigious race on the American Power Boat Association circuit. Miss Budweiser finished a half-lap ahead of second-place Appian Jeronimo in the five-lap race and covered the 2.5-mile course in 129.366 mph. Jeronimo, driven by Mitch Evans, was clocked in 119.987.
It was the second straight victory for Villwock, who drove PICO American Dream to the Gold Cup championship last year and was lured away last winter by Bernie Little, owner of Miss Budweiser.
When the race ended, Villwock stood on the top of the Miss Budweiser canopy and raised his arms high in a victory salute. Then he hugged Little.
"This is the pinnacle ... it doesn't get any better," Villwock said. "This is the Daytona 500 for us. There's a lot of great history here in Detroit. Not only do you have to race the competitors, but the river.
"Last year we (Budweiser) had a horrible year, and to come back and win this means a lot."
The Gold Cup victory was the 11th in 35 years for Little and Miss Budweiser.
"I'm a great crapshooter and 7-11 comes hard, but that's 11 the hard way," said Little, 71, a multimillionaire who is one of the biggest Budweiser distributors.
It also was a great day for Villwock's wife, Pam, whose birthday was Sunday.
"She asked for one present and this was it," Villwock said.
The Gold Cup final was delayed 11/2 hours after Close Call, driven by Mark Tate (Canton), was damaged extensively. Tate's boat hit a hole in the rough water and flipped [sic]. He was not injured.
Tate won the Gold Cup in 1991 and 1994.
There was more trouble Sunday when PICO American Dream, whose team worked throughout Saturday night until Sunday morning to repair damage from Saturday's heat, had engine trouble in the final and did not finish. PICO had won heat 3B Sunday and then finished a close second to Miss Budweiser in heat 4B -- 144.688 mph to 144.047.
Only four boats finished in the Gold Cup final. Driver Mike Hanson's DeWalt Tools finished third and driver Steve David's Miss Detroit Ford Dealers was fourth. Hydros Wellness Plan and DOC / TruckGear were knocked out earlier because of crashes. Computers & Applications withdrew because of hull problems, and Miss Exide had engine difficulties.
"This just shows once again this is a team sport and our team had our boat running strong despite the conditions, especially the horribly rough water," Villwock said. "You saw some of the top boats crash and others have problems. But when it was time to run, Ron Brown (Budweiser crew chief) and our team set up the boat perfectly. It showed what hard work year around can do."
(Reprinted from the Detroit News, June 2, 1997)
---
Tate's Race Ends Before it Starts
Mark Tate saw his chance for victory in the Chrysler Jeep Gold Cup disappear before completing even one turn in the finals. Tate, a resident of Canton and the driver for Close Call racing team, was the victim of the left sponson dipping underneath a roller, causing the boat to spin wildly and its right side to lift off the surface of the water.
"I tried to recover and ease the boat back down, but I just couldn't do it," Tate said. Close Call's hull was damaged and Tate's race was over. He escaped the wreck with only minor bruises.
This is not the first time that Tate has fallen on hard times at the Gold Cup. Last season, he was taken out of the race in the second heat after colliding with Chip Hanauer's Miss Budweiser. But Tate also had had his share of success in his home area. He won Gold Cup championships in 1991 and 1994.
"In my hometown, either I win or I don't finish," Tate said.
He said that wrecks in back-to-back trips to the Gold Cup won't stop him from racing next season.
"I'll be back next year. This just makes me want to win it even more."
(Reprinted from the Detroit News, June 2, 1997)
---
PICO wins
PICO's American Dream recovered from a nightmarish Saturday crash to win heat 3B of the Unlimited Hydroplanes by averaging 141.429 mph, and finished second to Miss Budweiser in heat 4B. The crash with DOC / TruckGear destroyed most of the Dream's right side and part of the deck.
"This is the most extensive repair we've ever done in 24 hours," crew chief Ken Dryden said. Seventeen crew members worked around the clock at the PICO manufacturing facility to restore the boat to racing shape.
"So right now we're just hoping it stays together long enough for us to run the race," Dryden said.
Unfortunately for Evans, the Dream didn't hold up. It lost power in the Gold Cup finals, and Miss Budweiser won.
(Reprinted from the Detroit News, June 2, 1997)
---
Some Post-Race Commentary
Steve Woomer has vowed to rebuild Nate Brown's Miss TruckGear ride, which means a new left sponson. The Jones family is already hard on that case. The Close Call, fortunately, sustained mostly superficial damage in the first-turn, first-final "shunt" in the shadow of the Belle Isle Bridge. In answer to the many questions, the boat did NOT barrel roll (which was the instant reaction to pictures mostly shrouded by spray), it did NOT flip. What it did was this: it hooked, appeared to be heading into a barrel roll, but then rebounded back onto its left sponson, then whipped around in a flat, 180-degree spin, coming to rest upright with the damage topside attributable to the wild waves of the Detroit River. Mark Tate, of course, was unscathed in the incident which might have cost Mark Evans and the PICO American Dream a solid shot at the Gold Cup. Evans, in fact, had the inside lane and the lead over Dave Villwock and the Budweiser when Tate's boat hurtled out of control and referee Mike Noonan adjudged its situation too perilous for the heat to continue. On the re-start, Evans' motor began misfiring and Villwock was the ultimate winner in a week-long war of attrition over the surprising second-place finish of Mitch Evans in the Appian Jeronimo.
(Reprinted from the UHRA Thunder Letter V.3 n.227)
---
This page was last revised Thursday, April 01, 2010.
Your comments and suggestions are appreciated. Email us at wildturnip@gmail.com
© Leslie Field, 1998