Lee Taylor & Hustler

Lee Taylor Record Run

[1967]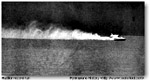 "Hustler" after setting the new world's water speed record of 285.2 mph. Note tail fin stabilizer and the parachute pod atop tail.
Cockpit is fully enclosed by a Plexiglas canopy to enhance streamlining. Taylor lies in a semi-reclining pose.
Congratulations to Lee Taylor, both for his dogged determination and for bringing the water speed record back to the United States. Our regulars will remember our coverage of Lee's jet boat in the June '64 issue. For those who don't, the hull was built by boat-building genius Rich Hallet of Downey, California. Rich designed and built the hull without ever actually drawing up any plans. Originally sponsored by Harvey Aluminum to the tune of $82,000 construction cost, the boat features an ultra-streamlined superstructure of hand-formed sheet aluminum. The engine is a J-46 from a Navy Cutlass, rated at 10,000 horsepower. The Hustler weighs in at 5000 pounds with fuel and driver, height is 3 feet 10 inches at the center, with a length of 30 feet 6 inches and a beam of 8 feet.
Lee's first attempt at challenging the late Donald Campbell's record of 276.33 mph ended in a near fatal crash at Lake Havasu in '64. He got off course and ran out of water, ending up high on the shore. Lee was tossed out in the rocks, losing an eye, breaking an arm, leg and ribs, plus internal injuries. After a lengthy hospital stay, he equipped the boat with a chute and went to Lake Mead in the fall of '65, only to be frustrated by mechanical problems in this attempt.
At this point, Taylor lost his sponsors and seemed to be considered a has-been by the boating world. Lee finally went to John Beaudoin of Compton who had been a long-time friend of his father. John is in the tire business and admit:. to knowing nothing .about boats, but had confidence in Lee himself. John financed the final successful assault at Alabama's Lake Guntersville on the 30th of June this year. The Compton (California) Youth Center was a cosponsor.
Lee's first run that fateful morning was an amazing 299.1810 mph. On the return run, a spectator's boat got by the Coast Guard and wandered out to the lights, goofing up the return run time, while the Coast Guard ran him down and gave him a ticket for reckless driving. Lee got in a 25-0 mph run just 4 minutes under the allotted one hour return time. The next two runs averaged 285.213 mph to take the record by 8.88 mph. Lee is presently on tour, relaxing and enjoying some of the fruits of this hard-won victory. He really wants that 300 mark and will have a go at it some day.
(Reprinted from Erick Rickman's "Rooster Tales" column in Hot Rod Magazine, September 1967, pp.126-127)
---
Hydroplane History Home Page
This page was last revised Thursday, April 01, 2010 .
Your comments and suggestions are appreciated. Email us at wildturnip@gmail.com
© Leslie Field, 2000