| | |
| --- | --- |
| | |
| | |
| | |
| | |
| | |
| | |
| | |
| | |
| | |
| | |
| | |
| | |
| | |
| | |
| | |
| | |
| | |
| | |
| | |
| | |
| | |
| | |
| | |
| | |
| | |
| | |
| | Slo Mo IV Remains Queen |
| | |
| | |
| | |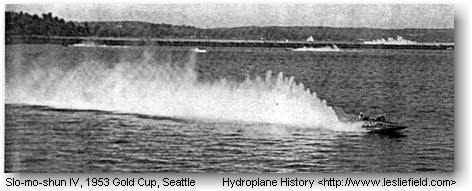 Winner of the 1953 Gold Cup Regatta, Slo-Mo-Shun IV driven by Joe Taggart of Canton, Ohio, and Lou Fageol. She took first place in all three heats
Left to right: Joe Taggart, Lou Fageol and Stanley S. Sayres as they receive congratulations from TV announcer Bill Corcoran
Best start of the day was in the race for the Seafair Trophy. Rich Hallett's 225, I'm In (nearest camera), streaked to victory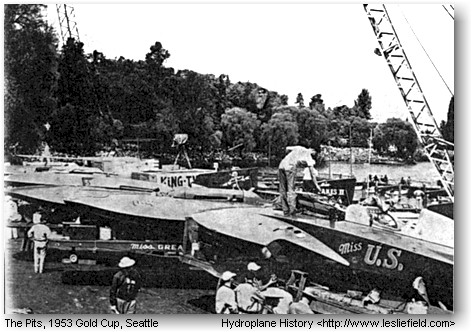 The big fellows being readied for launching a few hours before the start of the big event. Police and military kept them under close guard
Gale coming up for green flag in the first heat of the Gold Cup Race. Here size laps Miss United States as Such Crust V (in background) goes into the turn from the east straightaway.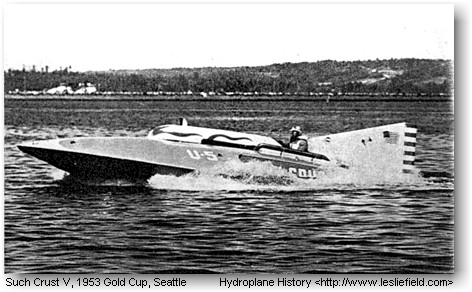 Bill Cantrell bringing Such Crust V to the pits after finishing third in the first heat. She threw her prop during the first lap of the second heat and was hors d'combat.
Slo-Mo-Shun IV leading Gale into the final lap of the third heat. At no time did she really open up with all she has.
The story of the 46th Gold Cup performance is simply that Slo Mo Shun IV remains the greatest unlimited hydroplane in the world.
Hence, though handled by two drivers, Joe Taggart and Lou Fageol, the Allison powered veteran which Ted Jones designed and Anchor Jensen built for Stanley S. Sayres five years ago, for the third time, and easily, lifted the trophy on the nigh-serene waters of Seattle's Lake Washington on Aug. 9.
While her much plagued fleet mate, and the 1951 winner, Slo Mo Shun V, sat it out in the pits, "The Old Lady of the Lake" turned back five Detroit challengers in all three 30-mile heats. She was never fully uncorked at any time.
Oh, the elements were there. Until the last few yards of the final heat, it would have been possible for the steady roaring Gale II, ably handled by young Lee Schoenith, or the twin-Allisoned Such Crust III, which Chuck Thompson drove for Jack Schafer, to have snared the holy grail.
Going into the final eight laps over the 3.75 mile course IV had 800 Points ; Gale, which had faltered and finished 3rd by a few lengths to Crust III in the second heat, had 525 and Crust III, 469. The Slo Mo IV at least had to finish.
As for the other boats: after 2,500 miles (and gad, what they must be to tow a Gold Cupper through eight states on these U.S. highways), Albin Fallon's Miss Great Lakes II and driver Danny Foster got about 40 seconds of racing. Shortly after crossing the starting line in the first lap of the first heat, Miss Great Lakes went out due to a broken driveshaft which threw her propellor. She was towed in to stay.
In the second heat the second of Detroit's challengers, Such Crust V, also tossed a prop. She fitted another and came out for the third heat but on the first lap again went out. This left on the beach genial Bill Cantrell whose ill-starred accident with Miss Pepsi will be remembered as a highlight of the 1952 race. George Simon's Miss United States [Miss U.S. (1)], with builder Danny Arena at the wheel, went into action with a quick repair job on a sponson which had been damaged during qualifying runs. She got fifth in the first 30-miler, did likewise in the second after being lapped by both Mo IV and Gale II. The pounding had her leaking badly so Simon kept her out of the finale.
Either of the remaining Detroiters might have won, however, if the Old Lady had faltered. This contingency kept the tremendous throng, which Seattle's splendidly-functioning police estimated at a quarter of a million, at a tension point until Taggart brought Slo IV over the finish line in the third heat, a quarter lap ahead of Gale II. He then wheeled her around the course and back to the committee barge, where Sayres' private runabout rushed to meet her and share the ovation for the drivers, owner Sayres and the great pit crew aboard. These able gents comprised Martin Headman, Howard Gidovlenko, Jack Harshman, Al Johnson, Wes Kiesling, Harold Wortman and builder Jensen.
Apart from the question "will she hang together", there was never any other. The Old Lady was at no point ever really extended. It was obvious that she had another 30 miles an hour to pour on if the coals were ever needed. Except for a moment starting the second heat when Fageol was boxed in, both drivers had largely a careful nursing job to do.
Counting her bonus points for best lap (at 95.268 by Taggart in the first heat) and new 90-mile average record at 92.613 and for first place in all three heats, Slo Mo Shun IV earned 2,000 points. Gale II had 825 ; Such Crust III, 694; Miss United States, 294; Such Crust V, 225; Miss Great Lakes, 0, and Slo Mo Shun V, which failed to qualify (for reasons later), 0. The new, three-heat record boosted IV's own 78.215 record set in 1950 at Detroit.
Previous best heat time was 91.7, made by Slo Mo Shun V in 1951.
For any star gazers, these coming events had already cast their shadows earlier in the week. It stood about thus for the pair of Sayres stable boats: (1) No. V—for her the sign was bad. Being tried for acceleration by Fageol three days before the big event, she threw a prop; the crankshaft wound up and ripped a hole through the bottom. The pit crew went to work, had her out to qualify Saturday, Aug. 8. One of the few unlocated floating logs on Lake Washington, a gnarled seven footer, got in the way and V was out again. After an all-night repair job the "Princess" was ready to qualify next morning. However, part of a log boom at the course, where some 700 pleasure boats were tied up to see the show, went out near the center. The delay cost time. Lack of room prevented the qualifying run. Drivers voted against letting her race without qualifying, so the "Princess" stayed in her bower.
(2) Not so the Old Lady. On Thursday, Slo Mo Shun IV with Taggart driving, had whipped around the course at 107.5 for a qualifying record which upped easily the 103.746 that Cantrell made in 1952 with Miss Pepsi. Cantrell hung up next best time with Crust V at 96.9. No. III turned 93.6; Miss Great Lakes, 92.9; Gale II, 90.9; Miss United States (about 90).
Leaving the Gold Cup oddments (and there were a number this year, some of which remain riddles); none could question the splendid course conditions and calibre of boats on hand. These enabled limited hydroplane, stock and racing outboard drivers to set up a total of 13 world, American and Canadian speed records in a variety of action.
Records ranged from the J Stock outboard runabout competition mark of 24.109 set on Green Lake Thursday by Butch Ford, a 14 year old Denver, Colorado, boy during divisionals, to the terrific 225 Cubic Inch inboard pair of records made by Rich Hallett of Downey, California, in the I'm In.
It must be admitted that limited class fields, and others, were sharply reduced this year, although racing generally was fast and keen.
During action of the 225s and 266s, between Gold Cup heats, plus the Seafair Trophy race (which he also won). Hallett topped his own 225 record in the second heat, when he turned the course in 3:43:79. Speed was 80.433, upping the former 75.8 mark.
Next day, in mile trials over the test strip east of Mercer Island, Hallett thrice hoisted the 100.029 record which Art Maynard's Restless III (on deck this time but a bit slower) made in 1952. I'm In finally touched 104.692.
But, 'twasn't all. Buddy Holloway's 135, Screamin' Eagle of Oakland went 100.620 to up the 99.483 record Eddie Meyer's Avenger IV of Hollywood set last year at Seattle. John Kovacevish's 13 year old outboard record finally went bye-bye when Walt Gillo, San Mateo, turned 61.888 for a new F Racing runabout, five-mile mark. Bill Tenny, Dayton, Ohio, hoisted the A hydro speed to 53.746. Don Benson, Seattle, put the AU runabout record from 42.881 to 46.039, while young Ford added to his J Stock laurels with a mile mark of 25.844.
Attorney Tom Caldwell's 136, Blue Blazes of San Mateo, raised the miles an hour to 72.914. A.P.B.A. vice president, Bud Wiget of Concord, California, stopped at 71.993 for a new F hydro outboard record. This also broke a 13 year old mark of 66.234 set by James Mullan II. Jack Leek, Tacoma, Washington, turned 50.858 in A Stock hydro. To complete the picture, the Canadian 225 Cubic Inch inboard record held by Jim Hutchinson was lofted by him to 97.113.
In retrospect it can only be said that a wonderful job was turned in by Seattle as host which (not excluding Detroit) is today, and thanks to the Gold Cup, perhaps the most boat-race conscious city in America, if not the world. Preparing for and handling the job through all the Seafair week and especially on the climatic day revolved on many people who should be complimented, in addition to the able committee including Howard Richmond, chairman; Ross Merrill and Lin Ivey, vice chairmen; Melvin Crook, referee; Middleton M. Chism, starter; Anderson S. Joy, scorer; Al Hart, measurer; J. Otto Crocker, timer; Phil Bessor, surveyor; Don Cooney, pit chairman and Seattle's Gold Cup public relations chief, Art O'Laughlin.
[Reprinted from Motor Boating, October 1953, pp. 13-15]